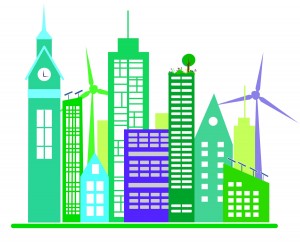 New Jersey is about to experience a surge of new clean energy projects, unleashing a considerable amount of additional private financing for energy efficiency and renewables.
Amendments to NJ's existing PACE law are being passed in the NJ Legislature this month. Governor Christie has the opportunity to sign this legislation before he leaves office. Given that the new bill includes amendments based on his 2015 conditional veto, Governor Christie could (and we think, should) sign Commercial-only PACE legislation as part of his economic legacy.
PACE — Property Assessed Clean Energy — is a new source of financing for commercial projects. More than a dozen states have PACE programs which have collectively financed almost half a billion dollars worth of projects across the US and created almost 7,500 jobs. And this is just the tip of the iceberg of new construction and retrofit projects that are eligible for this new form of financing
For a general description of PACE see What is PACE?
The key benefits of Commercial PACE are that it:
Saves property owners money on energy
Creates local jobs and economic development
Helps the environment by reducing carbon emissions
The most appealing features of Commercial PACE for energy efficiency, renewable energy and resiliency financing are that it:
Covers 100% up front financing, including project development costs, and can be off-balance sheet
Allows terms of up to 30 years, allowing projects to be cash-flow positive from the start
Remains with the building upon sale
Allows payments to be passed along to tenants, resolving the split incentive issue
Increases the value and competitiveness of the building
Property owners can receive subsidies and incentives from the NJ Clean Energy Program, and use PACE financing to finance 100% of the remaining hard and soft costs.
Other potential sources of energy-improvement financing include state programs such as the proposed Public Bank, a possible Green Bank, and the New Jersey Resilience Bank (which has already committed all of its available funds). But each of these is likely to take longer to implement than PACE, requiring additional legislative approvals.
The distinguishing feature of PACE is that it does not involve any public funds, is wholly decentralized through the municipalities and the private sector, and is not managed by the state. It can get off the ground immediately, and make a substantial impact on creating jobs and reducing emissions.
Ramping up both public and private funding
Our preliminary estimates suggest that the potential for clean energy improvements of commercial properties in New Jersey may be more than $75 billion, including renewables and efficiency improvements, even a fraction of which is capable of creating an enormous boost in jobs and economic development.
What this means is that PACE could rapidly exceed the current level of public clean energy financing in the state, potentially more than doubling the extent of market transformation. Commercial PACE can provide 100%, non-recourse, and off-balance-sheet financing for a wide range of projects; or simply bridge the gap between what the Clean Energy Program provides and the total cost of the project. In addition, there are other innovative financing structures that have been devised specifically to take the place of PACE where PACE is not yet available. So the private market is going to drive the transition further and faster than ever.