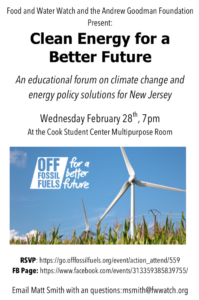 Our friends at Food and Water Watch write:
With every year of delayed action, we move closer to runaway climate catastrophe. Pollution from our current energy system is already taking a massive toll on our public health and safety, with disproportionate impacts on low income and communities of color. And nearly a dozen new fossil fuel expansion projects are currently proposed in New Jersey, including several dirty, dangerous oil and gas pipelines through our irreplaceable water sources.
Join us for an important event on climate change and dirty energy development in New Jersey, and learn how we can transition the state to 100% renewables!
While we currently lack national leadership on climate change, New Jersey has a unique opportunity to lead the nation in addressing this existential threat. With innovative policy solutions we can reduce our greenhouse gas emissions, phase out unsafe and polluting forms of energy, and improve our public health — all while creating thousands of new jobs building a 21st century energy economy.
At this event we'll be joined by a panel of experts including climate scientists, policy architects, elected officials and frontline community organizers. This is your opportunity to learn and engage in the critical advocacy and organizing work we need to unleash the clean energy revolution in New Jersey!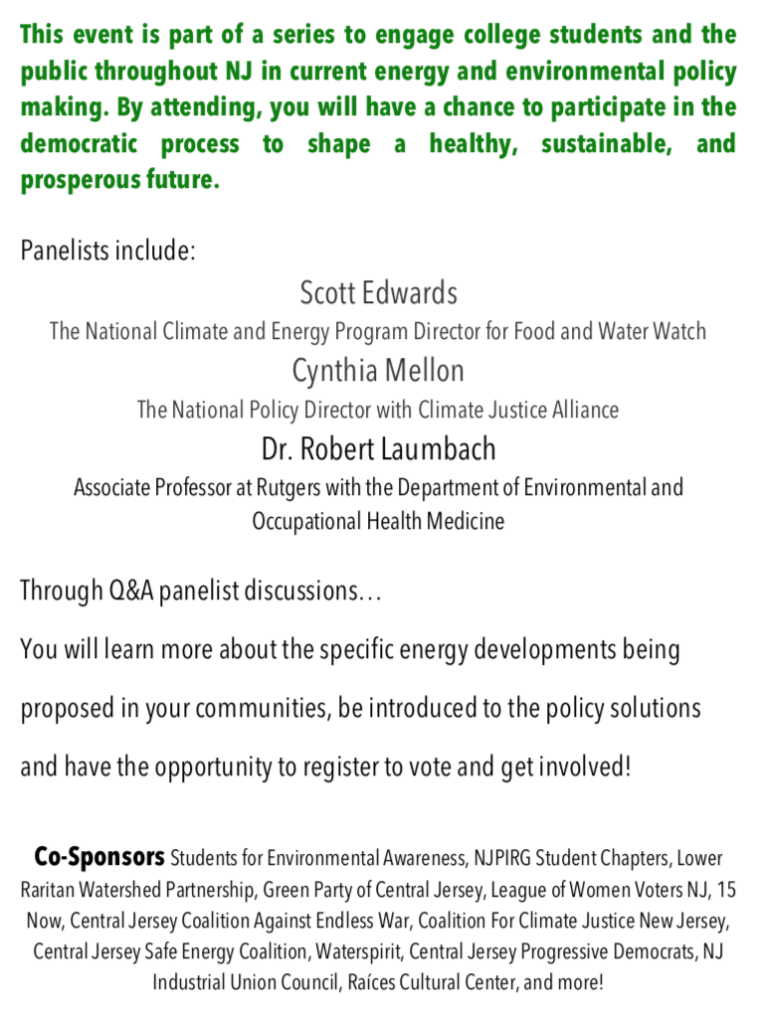 Seating is limited, so RSVP today!
We've reached a critical turning point for New Jersey's energy future. Now is the time to give ourselves the knowledge and tools we need to advocate for the clean energy future we deserve.
Join us at this empowering public forum!
Also sponsored by CRCS. We hope to see you there!