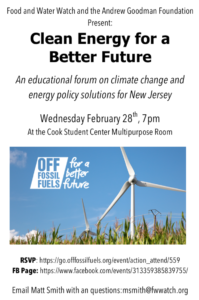 Our friends at Food and Water Watch write:
With every year of delayed action, we move closer to runaway climate catastrophe. Pollution from our current energy system is already taking a massive toll on our public health and safety, with disproportionate impacts on low income and communities of color. And nearly a dozen new fossil fuel expansion projects are currently proposed in New Jersey, including several dirty, dangerous oil and gas pipelines through our irreplaceable water sources.
Join us for an important event on climate change and dirty energy development in New Jersey, and learn how we can transition the state to 100% renewables!