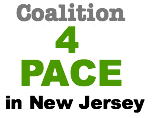 In the wake of Governor Christie's conditional veto of A2579/S1510, New Jersey PACE is initiating a coalition of key players to:
(a) resolve any issues standing in the way of a new, comprehensive, and workable bill — acceptable to all constituencies, insofar as possible — that initiates the development of a robust and secure PACE industry, and
(b) develop an industry alliance that helps expand the program to all sectors and all corners of the state.
As a nonprofit ("New Jersey PACE" is an initiative of the Center for Regenerative Community Solutions, a 501(c)(3) organization), our primary interest is in seeing PACE have an impact on low and middle income areas, especially those impacted by Superstorm Sandy and other extreme weather events.
PACE is remarkable tool for such communities, attracting private investment to enable property owners to upgrade for the long-term future, and then pay the financing back over many years at affordable interest rates. PACE is being used for affordable housing, urban revitalization, and financing high-efficiency clean energy systems in new construction.
You can learn more about the Coalition, and view the video of our Dec. 15 webinar, at NJCoalition4PACE.net.
New Jersey PACE is also actively exploring other approaches to financing clean energy for commercial, industrial, multifamily, and institutional properties, and we hope to announce the availability of new programs in 2016.